Your Entertainment Experts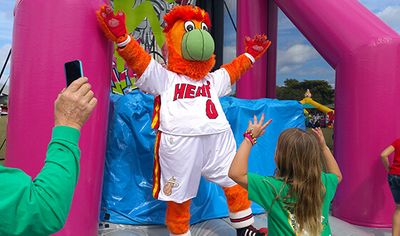 Corporate events provide you with the opportunity to engage and energize your employees, providing a place where everyone can let loose and have fun. This is a great way to strengthen the community within your corporation by enjoying party games together. Studies show that a disengaged employee can lead to a poor and unsuccessful company. This is where Celebration Source can step in and bring a smile to your employees and raise the engagement level. We will work with your company to create a fun-filled event. Whether you're looking to plan a corporate outing, a company picnic, or a team-building exercise, we are the experts of entertainment. We can host all your amusement needs with a side of delicious carnival dishes. With our party and carnival games, as well as fun inflatable attractions, your employees can have loads of fun and enjoy time spent with fellow co-workers.
In addition, we also provide special company event packages called Lunch Crunch. We will come with a set of games and food for your employees to enjoy during their lunch hour.
At Celebration Source, we're dedicated to making your corporate event or Lunch Crunch as fun as possible with our quality, clean, and fun attractions and services. Set up your next corporate event today—contact us!